Ken Learns to Fly
September 24, 2006 11:57



~posted by Clint

After a 5-hour Integral Spirituality conference call, Ken took a break from redefining spirituality for the postmodern world in order to take up flying. His plane of choice: Plantraco's RTF Butterfly Living Room Flyer. Yes, that is right, its an airplane for your house!

On his recent flight back from NYC, Ken found Plantraco's little creation—claimed to be world's lightest indoor remote controlled plane—in the pages of one of those in-flight shopping magazines. He turned to Colin, and it was as good as bought.

All 3.6 grams of it arrived at the loft yesterday packaged in a cool aluminum briefcase. Disregarding the sharply worded flyer, which stated "Do Not Touch Your Plane Until You Have Read the Directions and Watched the Video," we removed the plane and promptly broke off the tail. Yes, even Integral men don't read directions! Colin came to the rescue with a bottle of superglue, and within 15 minutes Ken was ready for his first flight. Follow the photo and video documentary below to see how he fared.



---
The Butterfly Living Room Flyer. Featuring a 900Mhz micro receiver, 4mm 5:1 gearbox, magnetically actuated rudder, and carbon fiber propeller, it is the first choice in microplanes amongst discriminating philosophers.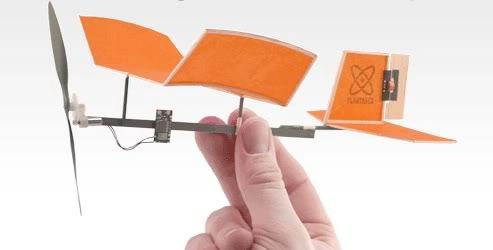 ---
Undeterred by the narrow hallway and adjoining 20-foot fountain, Ken and Colin opt for the longest potential flight path in the loft.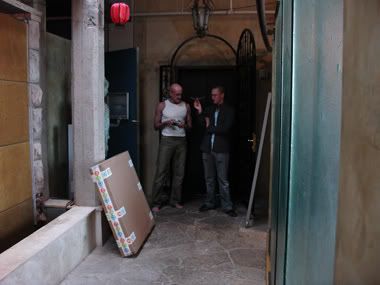 ---
Colin serves as the runway as Ken makes final preparations for historic Flight #1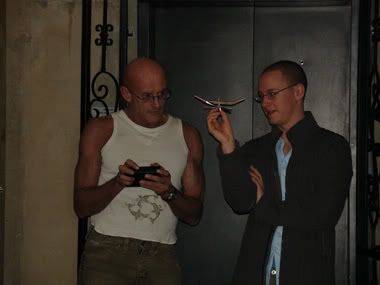 ---
After 2 seconds of airtime, the plane careens off the door to Ken's office before crashing to the ground. Colin repairs a damaged propeller so Ken can fly once more.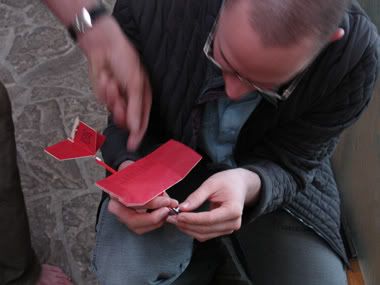 ---
The loft proves to full of obstacles for safe flying, so the flight team—now joined by Becca—heads outside in search of better conditions.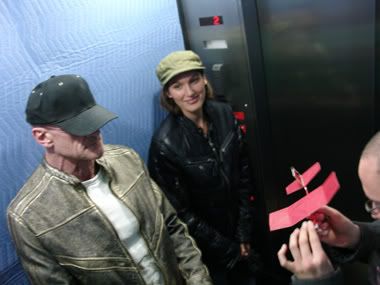 ---
Deep in an integral discussion of microplane aeronautics, Ken and Colin prepare for Flight #2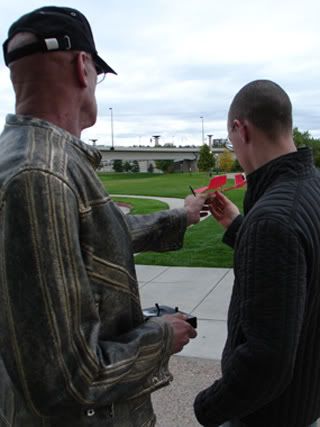 ---
Flight #2 is a success, well, until the landing, that is. After 15 seconds of airtime, the plane gained about 20 feet of altitude before crashing atop the awning above the front door. Fortunately, Tony, a friendly neighbor, is brave enough to climb out of his window to rescue the stranded flyer.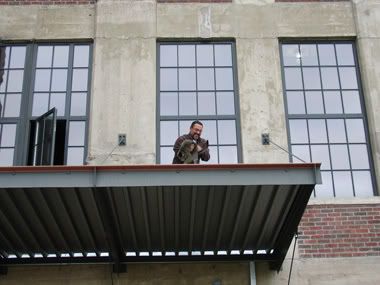 ---
Tony considers tossing the once again broken plane down to Colin but instead decides to take the elevator.
---
Colin—who is now a certified aircraft mechanic—reattaches the tail as the team searches for a suitable location for Flight #3.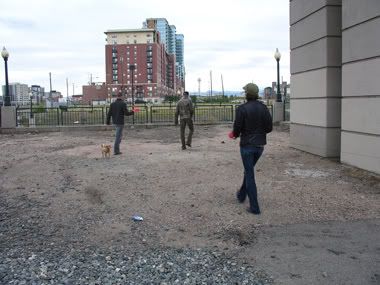 ---
Click below to witness historic Flight #3 and its unexpected landing.
---
After two additional flights and two fantastic crashes, Colin, who is now running out of superglue, repairs the plane a final time as Ken decides to cut his losses and try again on another, not-so-windy day.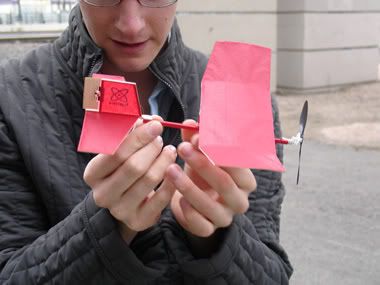 Stay tuned to this blog for the inevitable return of the mighty Living Room Flyer!