Kevin Kelly - Humanity, A.I., and the Great Google in the Sky (Free Dialogue!)
January 29, 2009 00:58



Kevin Kelly and Ken Wilber

Written by Corey W. deVos
As Kevin Kelly describes in his blog, The Technium is a term he coined "to designate the greater sphere of technology—one that goes beyond hardware to include culture, law, social institutions, and intellectual creations of all types. In short, the Technium is anything that springs from the human mind. It includes hard technology, but much else of human creation as well. I see this extended face of technology as a whole system with its own dynamics." The Technium exists at the interface between science, technology, culture, and consciousness, exploring the various ways humanity has defined and redefined itself through the ages. Within the Technium, technology is not regarded merely as the lifeless artifacts created by a particular species, but as a living matrix of innovation—the infusion of consciousness into inanimate matter, which in turn shapes our personal and cultural experience of the world.
In this installation, Kevin and Ken discuss the impact the inevitable rise of "spiritual machines"—truly conscious A.I.—will have upon humanity in the decades to come. Ken reads aloud from Kevin Kelly's blog, titled "Will Spiritual Robots Replace Humanity by the Year 2100?" They then break the question down into three pieces, taking a closer look at some of the presuppositions that lie at the core of the inquiry: what is the definition of "humanity"? What is the definition of "robots"? And what is the definition of "spiritual"?
For your convenience, the discussion has been broken into three small clips, or you can download the entire discussion here.
---
Humanity in Flux (or: The Dawn of an Integral Age)
Download Part 3a (right click to download)
"Man discovers that he is nothing else than evolution become conscious of itself. The consciousness of each of us is evolution looking at itself and reflecting upon itself." –Teilhard de Chardin
Wave upon wave of technological innovation are now crashing upon the shores of history—robotics, astronomy, interplanetary exploration, nanotechnology, optical computing, quantum computing, the Large Hadron Collider, and even the faintest hints of clean energy. Technologies like these are already having a profound effect upon the world, shaping our experiences, our relationships, and our understanding of the universe, enhancing and augmenting our humanity in powerful ways. Others, such as artificial intelligence, virtual reality, stem cell therapy, nootropics, and genetic engineering—technologies like these do not merely enhance our humanity, they force us to discover what it means to be "human" in the first place. What was once the job of mystics, artists, and renegade philosophers has now been thrust into the spotlight of mainstream science, and the human race is given a unique opportunity, never before possible. We have the opportunity to consciously define ourselves for the very first time, to release ourselves from the bondage of habit, superstition, myth, materialism, and nihilism that have imprisoned our collective identity since the birth of man, and to pull every aspect of culture, experience, and history together into a single coherent vision of humanity.
The role of technology in this reconstruction of human identity is profound. On the one hand, technology helps us understand the human condition with much more clarity and resolution than every before possible—exponentially increasing our shared body of knowledge, exposing previously secluded cultures to the light of the 21st century, offering an extraordinary vantage of the full parade of human experience. Our technology has expanded human intelligence in ways that we could have never dreamed just decades ago, and is accelerating every day. And yet, for every major triumph of intelligence our technology has enabled, many of our conceptions of human intelligence are being slowly stripped away as A.I. learns to outperform humans at tasks we once thought only humans could do. Technology is not just enhancing our humanity; it is negating it as well—and together we spiral toward the world's first collective species-wide identity crisis.
In order to even begin to make sense of this, we must take a truly comprehensive approach to the human condition, one that is able to pull all of our perspectives, all of our worldviews, and all of our methodologies together into a single coherent "theory of everything." This is the integrative impulse, an unquenchable drive to make sense of the full complexity of life, the universe, and everything, without ever leaving anything out—to find a way to integrate science, technology, spirituality, sexuality, psychology, ecology, business, politics, art, etc., into a single vision of humanity, without ever forgetting how much about the world and about ourselves we have yet to discover.
---
The Progeny of Man (or: What Hath We Wrought?)
Download Part 3b (right click to download)
"Today, our machines are still simple creations, requiring the parental care and hovering attention of any newborn, hardly worthy of the word "intelligent." But within the next century they will mature into entities as complex as ourselves, and eventually into something transcending everything we know--in whom we can take pride when they refer to themselves as our descendants." -Hans Moravec
Hans Moravec is a famed research professor at the Robotics Institute of Carnegie Mellon University, who is widely regarded for his work on robotics, artificial intelligence, and the impact of technology upon our daily lives. In his groundbreaking book Mind Children, Moravec offers a summary of the implications of Moore's law (which holds that the computational power of the microchip doubles every 18 months or so), and comes to the conclusion that artificial intelligence will begin to outpace human intelligence sometime between 2030 and 2040. In this sense, we should view the emergence of these new forms of intelligence not merely as subservient tools for humanity, but as the children of humanity.
Of course, while this idea may have found one of its more elegant expressions through Moravec's work, the concept itself is hardly new, having been a staple of science fiction for decades, perhaps most famously in The Matrix and the reimagined Battlestar Galactica series. But as the future pushes its way through the birth canal, relating our technology as the children of humanity becomes so much more than a worn-out sci-fi plot device—it speaks to the heart of the human identity itself, while informing our moral, aesthetic, and practical relationships with technology in just about every way.
By making this shift from the popular view of technology as either servants (R2D2), or executioners (Terminator) toward collectively being seen as the children of mankind, we begin to learn that attempts to control technology are more or less futile—technology, like any clever adolescent, will find a way to route around almost all forms of prohibition and punishment. And yet, we need to take the dangers of tomorrow's technology very seriously—the ability to self-replicate, for example, which is itself an intrinsic quality of any form of life, and will inevitably apply to tomorrow's "spiritual machines." But if we do not have the foresight to anticipate the natural shift to self-replication, and program in all the ethical and pragmatic considerations required to make sense of this complex ability, we find all sorts of world-ending "grey goo" scenarios, in which unregulated nano-machines consume all the matter on Earth while building an infinite number of copies of themselves. In order to prevent these nightmares from becoming reality, we must learn to guide the growth of technology, as we would guide the growth of our own children, preparing them for the harsh realities of the world.
---
Childhood's End (or: The Great Google in the Sky)
Download Part 3c (right click to download)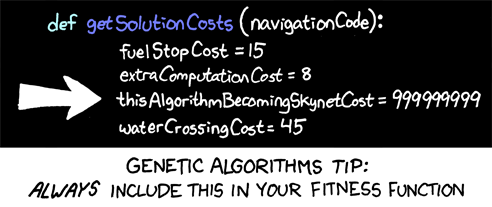 "I think technology has its own agenda. The question I am asking myself is what does technology want? If technology is a child, a teenager even, it would really help to know what teenagers want, in general. What are the innate urges, the inherent bias, the internal drives of this system we call technology? Once we know what technology wants, we don't have to surrender to all of these wants, anymore than you surrender to any and all adolescent urges; but you can't buck them all either. WILL these things technology wants happen? I believe they want to happen. What we know of technology is that it wants to get smaller (Moore's Law), it wants to get faster (Kurzweil's Law), and my guess is that technology wants to do whatever humans do (Kelly's Law). We humans find tremendous value in other creatures, and increasingly in other minds. I see no reason why robots would not find humans just as valuable." -Kevin Kelly
Is it possible to imagine any singular event more profound, more earth-shaking, and more exhilarating than encountering a genuine extraterrestrial intelligence? In a flash, this would cut directly to the core of all our personal, scientific, and spiritual beliefs, while contrasting human intelligence with a completely different form of intelligence—and from this contrast, a radically new space of human identity would emerge, as we discover a new "them" by which to define a new sense of "us."
As world-changing as this would surely be, it is actually very possible—likely, even—that we will experience something very much like this in the near future, perhaps in our own lifetimes. Only it will not come from the direction of the stars, but from an entirely terrestrial source. It will come from artificial intelligence, just as soon as A.I. reaches the level of complexity, sophistication, and capacity for self-reflection typically attributed to intelligent life. Although certainly born from humanity, these intelligences will be constructed from a completely different substrate than the human nervous system, and would thus presumably display a completely different kind of intelligence than we may expect—and will undoubtedly seem far more alien to us than human.
While contemplating the many forms this intelligence might take, we are led to an even more fascinating proposition. In his book Boomeritis, Ken mentions two of the inherent problems plaguing even today's best A.I. thinkers and visionaries:
a) the materialist interpretation of consciousness as epiphenomena of physical processes (while an integral approach sees consciousness as intra-physical, but irreducible to mere location)
b) human consciousness itself rests upon a long chain of whole/parts ("holons") that range from atoms, to molecules, to cells, to cellular systems, to basic nervous sytems, to reptilian brains, to mammalian brains, and finally to the human neo-cortex. Most A.I. researchers, however, often envision artificial intelligence springing from objects like microchips—a hypothesis which predicts artificial intelligence emerging on the same level as human intelligence, but only composed of atoms and molecules, in effect "skipping" all those sticky, slimy levels of organic development.
Here Kevin offers another possibility, one which fits quite well within the integral account of evolutionary unfolding, by which wholes become parts of new wholes, which become parts of new wholes, forever—each transcending and including the previous stage, as letters to words to sentences to paragraphs. "The many become one, and are increased by one," says Alfred Whitehead, meaning the sum totality of parts becomes an integrated whole, and some new magnitude of reality emerges.
What if it is not individual robots or computers, but the network itself—the entire World Wide Web—that shall become a living, breathing, conscious organism?
In fact, what if it already has?
Every second we are becoming more and more interconnected, our experiences and perceptions woven together by the electronic nervous system of the web. Sometimes it feels like a "third hemisphere" of our own brains, a chaotic hive mind which, when we disconnect from it for too long, can begin to make us feel lobotomized. All our perspectives, interpretations, interactions, and behaviors—even the momentary minutia of our twittered interiors—all cast digital reflections in the One Machine, binary prayers to the Great Google in the Sky.
Is it possible that this emerging consciousness shall completely subsume us, humanity itself becoming the substrate for a radically new form of intelligence? Would each of us become an individual node in the electronic Overmind, as thoughts from a higher organism are somehow pushed through our own—tiny synchronicities of information that can be felt, but never understood from our link in the chain of consciousness? And could we even begin trying to decipher what those thoughts might be? How would we even know if this organism ever came into being?
---
Kevin Kelly and Ken Wilber - Exploring the Technium. Part 3. Humanity, A.I., and the Great Google in the Sky. by Kevin Kelly, Ken Wilber, Corey W. deVos is licensed under a Creative Commons Attribution-Noncommercial-Share Alike 3.0 United States License.